All About Funtastix
Established in 1997, Funtastix continues to provide high quality entertainment to the entire state of Delaware and to the surrounding Pennsylvania, Maryland and New Jersey regions. We're very safety minded (the owner has a background in safety training as a result of working for a local chemical company for over 20 years) and conform to all local and state regulations. Our equipment is sanitized using technologically advanced systems that are non-hazardous and environmentally friendly.
Pictured below is our very first inflatable called the Crooked Cottage. It was purchased from a company located in England in May of 1997. It has since provided many many hours of fun for children and will always be a part of their happiest memories. Due to its high quality it could still be rented today but we've decided to put it into retirement.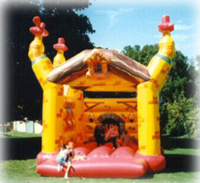 We're a local company residing at 27-J Albe Drive in Newark, Delaware 19702. Please note that we're only able to accept non-postal deliveries at this address and that we do not provide an indoor play facility. Our mailing address is: Post Office Box 5944, Wilmington, Delaware 19808.