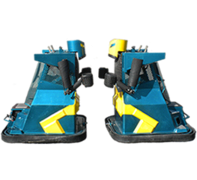 Boxer Bots

Actual Size: 17x17
Setup Area: 25x25
Monitors: 2

Please call to reserve this item.

Boxer Bots - Robotic Boxing Ride
An incredibly fun ride, the Boxer Bots stand about 6 feet tall and weigh in at about 850 pounds each! The participant enters one of the two robots at the back and is instructed on how to use the simple controls inside the robot. The boxing robot can be made to go forward and backward and everything in between. To play, the participant moves into position and presses the button on top of one or both the left and right joy sticks to throw a punch at his robot opponent. The best strategy is to knock the opponent robot's head back, scoring points which are displayed both inside and outside of each robot. This ride is a combination of both the old rockem sockem robots game and bumper cars and can be a great team-building ride/game. Boxer Bots can only be used on a smooth, level concrete or asphalt surface and cannot be used indoors since the robots are powered by a gasoline engine. For this rental we will build a ring on site that is 16 by 16 feet and remain to referee the entire event. Assistance will be required from a volunteer or volunteers to help with loading and unloading of the robots. The rate shown is for 3 hours.